Nathan Loeser - Co-Founder of Hahn Loeser & Parks
10214 Lake Shore Boulevard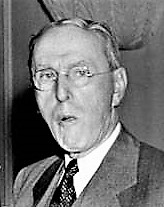 Nathan Loeser was a co-founder of one of Cleveland's largest and most prestigious law firms and a prime mover in creating Mt. Sinai Hospital.
On August 8, 1869, Nathan Loeser was born in Cleveland but raised in Buffalo, the youngest of eight children of Moses and Mariana Loeser. The Loesers had emigrated from Germany and were among the first Jewish pioneers of the city.
Nathan received his early education in Buffalo public schools. He studied law and Journalism at Cornell University. After graduation, Nathan studied law in a Buffalo law office but pointed toward a career in journalism. He worked as a writer for the Buffalo Express, New York Herald, and Associated Press.
Loeser returned to Cleveland in 1892 and took a position in the law office of Louis Grossman. He earned admission to the bar in December 1896. Loeser and Grossman published the American Lawyers Quarterly for several years. He was later admitted to the United States District Court, United States Circuit Court of Appeals, and the United States Supreme Court.
In 1920, Loeser left the Grossman firm to establish along with Edgar Hahn,  Mooney, Hahn, Loeser, Keough, and Freedheim, which in 1985 became Hahn, Loeser, Freedheim, Dean & Wellman in 1985. The firm joined with Parks, Eisele, Bates & Wilsman. Hahn Loeser & Parks, with approximately 65 lawyers, became Cleveland's 8th largest law firm.
Loeser was president of Mt. Sinai Hospital from the late 1890s until 1910. With John Anisfield, he was instrumental in obtaining support from the Federation of Jewish Charities for the hospital's construction in 1916. Loeser was a long-time trustee of the federation. In 1901, he served one term as president of the  Baron de Hirsch Lodge of B'Nai B'rith. Like his father before him, Loeser served as president of Euclid Avenue Temple.
Loeser was chosen by Louis Beaumont, principal owner of the May Company of Cleveland, to be among the first trustees of the Louis D. Beaumont Foundation, a charitable trust providing money for social welfare projects.
For his leadership in citywide and Jewish community activities, Loeser was given the Eiseman Award by the Jewish Community Federation in 1949.
Loeser was elected to Bratenahl Village Council in 1938 and served 11 years until he resigned in 1949.
Social memberships included the City, Cornell, Excelsior, and Oakwood Country clubs.
In 1913, Loeser married Beatrice Moss, the sister of Herman Moss, who lived at 10305 Lake Shore Boulevard. Beatrice was born on December 15, 1879, in St. Louis, Missouri. They had two children: Mary Ann, born on April 26, 1918, and Charles Nathan, born on May 26, 1922. Both attended Bratenahl School through the eighth grade. After that, Mary went on to Hathaway Brown School, and Charles went on to University School.
Beatrice died on February 8, 1930, at age 51. Nathan died on June 30, 1953, among the oldest practicing attorneys and was buried alongside Beatrice in Mayfield Cemetery.