Charles Bulkley - Real Estate Investor
11475 Lake Shore Boulevard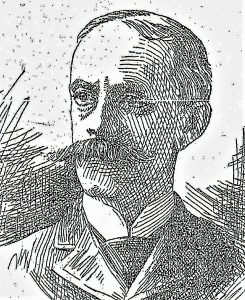 Charles Bulkley became very wealthy by acquiring real estate and made himself a civic leader in Cleveland with a wide range of financial and other interests. He was involved in newspaper publishing and banking. In addition, he raised money for Western Reserve University and the construction of a theater.
Charles Henry Bulkley was born in Stephentown near Albany, New York, on September 26, 1842.  He was the son of Henry and Susan Bulkley and a descendant of Reverend Peter Bulkley, the first Congregational minister, a staunch Puritan, who gave the first library to Harvard College. Charles's sister, Delia Elizabeth Bulkley, married Liberty Holden and lived at 8907 Lake Shore Boulevard.
His family moved to Kalamazoo, Michigan, from New York.  He entered college in 1859 but remained less than two years.  He came to Cleveland in 1861 and entered the law office of Judge J. P. Bishop as a student. His natural tendency for business led him into business rather than professional life, but his knowledge of the law was of great advantage to him throughout his varied business career.
When Mr. Gordon saw that his career was coming to an end, he made Bulkley his trusted agent and advisor, and before he died, he made him a trustee of his large estate.
When the law was passed creating the park commission, Mr. Bulkley was made its president. He brought great ability and devotion to the perfection of the park system. It was the pride of his life until his death.
Mr. Bulkley was a vice president and director of the Plain Dealer Publishing Co. and a director of the National Bank of Commerce.
He was a member of the Union Club and its treasurer for ten years, from 1888 to 1889, and its president during 1888 and 1889. He was also one of the first directors of the Chamber of Commerce.
He was a director of the National Bank of Commerce and the Chamber of Commerce and vice-president of the Plain Dealer Publishing Co.  He was treasurer of the Union Club from 1878 to 1888 and president in 1888 and 1889.  He has also had charge of the real estate of the late William J. Gordon.
While in Kalamazoo, Charles married Roberta Eugenie Johns. She was born on July 1, 1847. They had one son, Robert Johns, born on October 8, 1880.
Charles Bulkley died at his 2926 Euclid Avenue home on December 29, 1895, after a six-week illness. He was reportedly worth between two and three million dollars. Roberta died on November 17, 1920. Both are buried in Lake View Cemetery.