Liberty Holden - Founding Father and Bratenahl's First Mayor
8907 Lake Shore Boulevard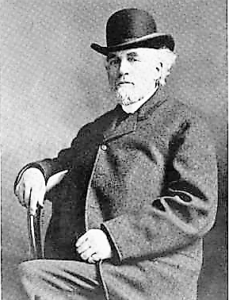 Holden was a member of the Mayflower Society and the Sons of the American Revolution. He took great pleasure in tracing the Holden family's growth in America from its earliest days in the mid-seventeenth century, eventually commissioning a two-volume genealogical register of all the Holden family who could trace their ancestry back to the original settlers in the New World.
Liberty Holden amassed a fortune primarily in western mining to invest heavily in local real estate and promote Cleveland's cultural life. As one of Cleveland's most influential persons, Liberty Holden was the leader and driving force in the creation of Bratenahl. He was asked by Frederick Goff, mayor of Glenville, to lead a drive to have Glenville on the Lake become a separate municipality.
The principal problem to be addressed by Holden was to settle on some agreed method of structuring the new community to prevent the intrusion of unwanted types of land use. Those living in Glenville on the Lake did not want any more businesses to move into the area.
Along with Goff, Charles Britton, Arthur Baldwin, and Abram Garfield, Holden thrashed around for a solution. They also received pressure from Collinwood residents Samuel Mather and Charles Bingham. Eventually, Judge Louis Grossman, John D. Rockefeller's attorney, offered a resolution.
The solution had deeds to every property in Glenville on the Lake be revised to restrict land use to single-family homes for fifty years. This simple solution required an astonishing leap of faith from the property owners.
Over a year, Holden visited property owners from Gordon Park to Coit Road to request that they convey the deeds to their homes to Guardian Savings and Trust Company as trustee. The owners received their documents in return with provisions limiting the use of their property for a term of fifty years. After more than a year's work, Holden persuaded more than 150 of his neighbors to participate, demonstrating the trust and the high regard the owners had in him.
The re-granted ownerships forbade the construction of railroads, businesses, manufacturing enterprises, or any structure that would emit offensive odors, noise, or smoke. Nor could they erect apartment houses or establish resorts, hotels, saloons, stables, or even picnic grounds. The Country Club, James Patton's fruit farm, and the Schmitt-Gamble greenhouses were grandfathered from having such restrictions. The provisions to not sell wine or spirituous liquors of any kind were intended to keep Glenville's working classes at bay.
On November 21, 1904, voters unanimously decided to become a village.  On December 13, 1904, Liberty E. Holden was elected as the first village mayor with fifty-eight votes in favor, and none opposed. With the leadership of Liberty Holden, all the newly elected officers of Bratenahl had a lot of work to form and operate the new village.  Raising revenue was essential; workers' employment was crucial; necessary goods and services needed procurement: policies, procedures, and laws required to be drafted and enacted. Mayor and council completed the problematic task in a relatively short period.
Liberty Every Holden was born on June 20, 1833, on a small farm in Raymond, Maine, son of Liberty and Sally Holden. Raymond, Maine, was still part of the northern New England frontier at his birth.
Liberty began teaching at age sixteen and completed two years at Waterville College (Colby College) in Waterville, Maine, before moving, in 1856, to finish his education at the University of Michigan.
While Professor of Literature at Kalamazoo College, he married his most brilliant pupil, Delia Elizabeth Bulkley, on August 14, 1860.  Delia was born on May 22, 1838, in New York. She was the sister of Charles Bulkley, who lived at 11475 Lake Shore Boulevard.
After two years, as superintendent of Tiffin Ohio schools, Holden moved to Cleveland in 1862 to study law and invest in real estate. Holden studied mineralogy in his spare time to give himself a basic understanding of the mining business. In 1873, he began investing in mining properties, iron ore in the Lake Superior region, and silver in Utah. He became a leading spokesman in Washington for western silver interests.
Holden purchased the financially distressed Cleveland Plain Dealer from William W. Armstrong on January 2, 1885, and launched the morning Plain Dealer after purchasing the Cleveland Herald and dividing its assets with the Cleveland Leader. Holden made the combined papers the evening, morning, and Sunday Plain Dealer. Holden personally operated the newspaper until 1898.
Liberty Holden also owned the Hollenden Hotel that took its name from an early English form of the word "Holden." Holden purchased land from Philo Chamberlain and created a corporation to build the hotel. He hired Cleveland architect George F. Hammond to design it. When the hotel opened on June 7, 1885, it was considered a technological marvel because every room was equipped with electric lights, and the building was fireproofed. Adding to the hotel's glamor, it contained 1,000 rooms, 100 private baths, a theater, barbershop, along with several bars and clubs. The hotel housed permanent as well as temporary residents. The hotel's interiors consisted of paneled walls, redwood, and mahogany fittings and finished off with crystal chandeliers.
As president of the building committee, Holden was primarily responsible for constructing the Cleveland Museum of Art and its adjacent setting of Wade and Rockefeller Parks.
Holden was a charter member of The Country Club and president of the Union Club.
Liberty Holden died on August 26, 1913, in Mentor-on-the-Lake, Ohio. Following his death, Delia moved to California. She died on June 25, 1932, and was returned to Cleveland for burial alongside her husband in Lake View Cemetery.
Liberty and Delia had seven children: Albert Fairchild, born on December 31, 1866; Liberty Dean, born on February 7, 1859; Delia Bulkley (White), born on January 31, 1871;  Roberta (Bole), born on September 30, 1876; Emery (Greenough), born on March 8, 1879; and twins Gertrude (McGinley) and Guerdon Stearns, born on December 9, 1881.
Managing the several Holden trusts was a full-time job, with each trust having its trustee. The rich mining properties, largely Island Creek and Pond Creek Coal Companies had been separated from the real estate and newspaper and left mainly to his son, Albert, and Albert's two daughters, Emery May and Katherine.
The newspaper and real estate property were left in trust on August 21, 1913, to the younger son, Guerdon, and four daughters, Roberta, Delia, Emery, and Gertrude.