Sophia Elizabeth Strong Taylor, President of Taylor's Department Store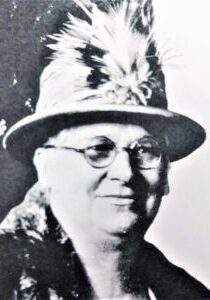 Sophia Strong Taylor was one of the nation's leading businesswomen and one of Cleveland's most fascinating personalities. A vibrant and forceful woman, she remained all her life meticulously faithful to the business principles of her father-in-law, who founded the Taylor Department Store and scrupulously devoted to the moral and religious life that was a family heritage.
Brilliant, wealthy, personable, Mrs. Taylor did not care for social activities. Her countless benefactions and religious and missionary interests made for a full life.
In Mexico, Missouri, Sophia Elizabeth Strong Taylor was born May 5, 1861, to Charles Henry and Elizabeth Roe Strong. Her father was an engineer and, for years, was occupied with the building of the transcontinental railroad. Before the railroad drove the last spike, Mr. Strong moved his family to Cleveland, where he became an engineer for Cleveland. Sophia received her education through private schools and tutors.
On April 21, 1870, William Taylor and Thomas Kilpatrick opened a one-room dry-goods store, known as Taylor, Kilpatrick & Company, on Euclid Avenue at Public Square. Thus began the retailing trend away from Superior Avenue to Euclid Avenue.
In 1885, William Taylor's son, John L. Taylor, joined the partnership when Kilpatrick left the city in 1886. They renamed the store Wm. Taylor Son & Co.
On December 20, 1887, William Taylor died and left his son, John Livingston Taylor, in its active management. John and Sophia Strong were married on April 30, 1890. Just five years later, the unexpected death of John on November 7, 1892, posed a significant dilemma for store officials. Who would operate the growing enterprise? After much discussion, the board of directors appointed his widow, Sophia Strong Taylor, as president.
Without hesitating, Mrs. Taylor assumed active leadership of one of Cleveland's largest department stores, positioning Sophia as the leading woman business leader in the community. Yet, she would not be permitted to vote for another twenty-seven years.
She upheld the fundamental principles of her father-in-law, which he considered inviolable. The shades of all display windows were to be drawn on Sunday. There was no advertising in Sunday newspapers. No employee, no matter how important or how menial his task was to work on Sunday. No employee, clerk, or executive, was allowed to smoke inside the store. The store was to be operated on a pay-as-you-go basis. Her convictions were reflected in the store's ground-floor bible department that carried bibles in every language spoken in the melting pot of Cleveland.
William Taylor Son & Co. erected a five-story building at 630 Euclid Avenue in 1907. Six years later, the company outgrew that floor plan and added four more floors. The architect of the building was J. Milton Dyer.
Mrs. Taylor was considered a progressive who modernized operations. Her attention to high fashion prompted the store to install a radio photography system in 1926, allowing Taylor's to display the latest trends eight hours after they were seen on the boulevards of Paris.
In the 1930s, Mrs. Taylor acquired the adjacent Taylor Arcade and the Clarence Building, completing a modernization program. The store name changed to Taylor's Department Store.
Taylor served as president of the store until 1935 when she took the title of chairman of the board. Her younger brother, Charles Henry Strong Jr., became president. Mrs. Taylor continued to spend at least two hours in the store every day while in Cleveland. She remained the dominating influence, and nothing new was undertaken without her advice.
Viewing her employees as family, she spent many hours out in the store getting to know them. Employees received financial aid when it was most needed. She turned over her former home at 25000 Euclid Avenue as an employee recreation center. The grounds contained tennis courts, baseball diamonds, a pavilion, woods, and drives. The only restrictions were that no alcohol or tobacco was to be consumed on the grounds and that there be no dancing or card playing. Employees returned her generosity with unswerving loyalty and commitment to maintaining the store's high quality.
Choosing not to remarry and having no children, Mrs. Taylor divided her time between the store and her philanthropic interests. Sophia was a profoundly religious Presbyterian, and hundreds of missionaries remained worldwide because of her contributions.
Each year she fixed as her contribution to the Community Fund a sum equal to the combined gifts of all the store employees.
Her charitable instincts led to the creation of St. Luke's Convalescent Home in 1924. She converted a large part of her Bratenahl estate to homes for disabled and needy children.
Vigorous and healthy most of her life, Mrs. Taylor was an inveterate traveler and enjoyed flying mostly. She spent her 70th birthday on an airplane somewhere over Persia (Iran). Her first airplane trip was from Beirut, Syria, to Bagdad in a chartered plane.
Bratenahl residents remembered Mrs. Taylor sitting at the tiller of her Baker Electric automobile tooling along East 105th Street on her way to work. That automobile was an excellent piece of coachwork. People said that the varnish was so deep, one could look fifty fathoms into it and not see the bottom. There were also fine chenille balls dangling about the interior perimeter matching the staid matronly black apparel of the driver.
Sophia Taylor, who had been in ill health for many months, died of a heart attack at her Bratenahl home on September 30, 1936. For forty-four years, she played a vital role in the department store's leadership, upholding her father-in-law's principles. The store observed her death by closing its doors the day she was buried in Lake View Cemetery alongside her husband.
Sophia Taylor's estate was eventually settled in 1939 when the May Company secretly purchased the store. The dual ownership became known in 1945, and May Company operated two downtown department stores until December 16, 1961, when Taylor's closed, and the downtown store was remodeled into an office building in 1964.