Abraham Silver - Rabbi of the Temple-Tifereth
10311 Lake Shore Boulevard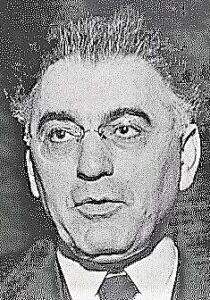 The Silvers and their young sons added to the liveliness of the Gries home. Guests included several outstanding Jewish personages, making the house the location of many important decisions and plans concerning the future of the state of Israel.
Coming to Cleveland in 1927, Silver succeeded Moses Gries as Rabbi of the Temple-Tifereth Israel, turning it from an "institutional synagogue" to one more religiously and culturally centered. He reinstituted Hebrew in religious education and openly-espoused political Zionism, for which he was a vocal advocate throughout his career. The congregation became the most significant reform congregation in the country by 1927.
While affiliated with the Zionist Organization of America from the 1920s to the 1940s, he also was president of the United Palestine Appeal and co-chair of the United Jewish Appeal. In 1943, Silver became co-chair with Rabbi Stephen S. Wise of the American Zionist Emergency Council. In 1944 Silver lobbied for passage of a Palestinian Resolution by the U.S. Congress, which did so in December of 1945. That year Silver was elected president of the Zionist Organization of America.
Silver was appointed chairman of the American section of the Jewish Agency, on whose behalf he addressed the United Nations General Assembly on May 8, 1947, advocating the creation of the State of Israel. Following the establishment of Israel in 1948, control of the Zionist movement slowly transferred to Israeli officials. The resulting power struggle and controversies about fundraising led Silver to resign his positions at the Zionist Organization of America, American Zionist Emergency Council, and the Jewish Agency in 1948 and 1949. However, Silver's support for Israel remained strong. In 1956, an Israeli agricultural school, Kfar Silver, was named in his honor.
Rabbi Silver was considered as a potential candidate as the first president of Israel, but he chose not to give up his rabbinical work. Instead, his friend David Ben-Gurion became president.
Locally, Silver was the first president of the Bureau of Jewish Education, and in 1933 helped create the League for Human Rights, as well as the non-sectarian Anti-Nazi League to Champion Human Rights in 1938. Silver also supported trade unionism and worked for the Ohio Commission on Unemployment Insurance that helped to pass the state's unemployment insurance law in 1936.
Silver was a prolific rabbinic scholar, publishing seven significant works, including The Democratic Impulse in Jewish History (1928), The World Crisis, and Jewish Survival (1941), Where Judaism Differed (1956) and Moses and the Original Torah (1961). In the early 1960s, Life magazine called Rabbi Silver one of America's 12 most influential leaders.
Abraham Silver was born on January 28, 1893, in Nienstedt, Schirwindt, Lithuania, to Moses and Dinah Seaman Silver. Silver and his family immigrated to America and settled in New York City in 1902. Rabbi Silver was one of America's most influential Zionist leaders and Gries's successor as the spiritual leader of the Temple-Tifereth Israel.
Silver attended Hebrew Union College and the University of Cincinnati, during which time he changed his name to Abba Hillel. He graduated from both institutions in 1915 and ordained as a reform rabbi. Silver received a Doctor of Divinity degree from Hebrew Union College in 1927.
Silver married Virginia Horkheimer in 1923. She was born on May 24, 1885, in Wheeling, West Virginia, to Louis and Clementina Horkheimer. The Silvers had two sons; Daniel Jeremy born on March 26, 1928, and Raphael David born on January 18, 1930. Both attended Bratenahl School.
The Silvers moved to 246 Bratenahl Road in 1939. When Silver died on November 28, 1963, his son Daniel succeeded him as Rabbi at the Temple. Virginia died on March 24, 1984, and buried in Mayfield Cemetery.