Windsor White - President White Motor Company
9432 and 8907 Lake Shore Boulevard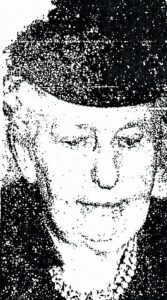 Delia Holden White possessed a great sense of civic responsibility. She was deeply interested in Babies' and Children's' Hospital.
She possessed boundless energy and was never happier than when she was doing actual physical work on one of her pet projects.
She was a member of the Cleveland Museum of Art's advisory council from 1929 to 1947. Delia belonged to the Holden family, which had been interested in the museum since its inception. She had a vital and lasting concern for the institution and its service to the community. Her part in the Fine Arts Garden's design and development, expressed in the Holden Terrace, added to the permanent setting of the museum.
Mrs. White was one of four Cleveland women honored by the Cleveland Garden Center when she received one of the first Frances McIntosh Sherwin awards.  Delia was a member of the board and founder of the West Side branch. She gave her time, energy, and resources from the center for seventeen years so that everyone in Cleveland might have help in gardening, a privilege formerly reserved for the few.
During World War II, Delia was busy in countless ways, helping the war effort and the United Service Organizations, to which she made large anonymous contributions. When the war ended, Mrs. White sent 21,083 thank you notes to donors who had contributed other than money.
Delia Bulkley Holden was born on January 31, 1871, the fourth of eight children born to Liberty and Delia Holden. She first lived in the Holden home, the present site of Case Western Reserve University. While still a young girl, she lived in the Bratenahl home for twenty-five years. In her youth, she spent several years in Salt Lake City, where her father had interests in the mining business.
She attended Miss Mittleberger's School and spent one year as a student at Wellesley College.
Delia and Windsor Thomas White were married in the Holden home on September 14, 1892. They had three children: Delia Bulkley (Vail), born on November 9, 1898, Thomas H., born on August 4, 1894, and Windsor Thomas, born on July 18, 1905.
Windsor White greatly influenced the development of the automobile industry in the United States, creating in Cleveland a notable business organization that attained national supremacy in the manufacture of motor trucks and buses under his direction.
Windsor Thomas White was born on August 28, 1866, in Orange, Massachusetts, and is one of eight children born to Thomas and Almira White.
He received a Bachelor of Science degree from Worcester Polytechnic Institute in Worcester, Massachusetts, in 1890. Following graduation, he went to Florida, where he followed a civil engineering profession for several months. He returned home to work in the production department of White Sewing Machine Company, of which his father was president.
Windsor's father, Thomas H. White, had invented a small, the hand-operated sewing machine in 1857. The White Sewing Machine Corporation was incorporated in 1876 to manufacture sewing machines under Thomas White's patent. From 1876 to 1877, the company manufactured from 150 to 200 machines daily.
From 1893 to 1895, Windsor was treasurer of the Cleveland Machine Screw Company, which his father had founded, to gain financial management and production experience. In 1895, he returned to White Sewing Machine as vice-president.
In 1900, the White Sewing Machine Company began to design automobiles under patents granted in 1898 to Rollin White, Windsor's brother. Production started in 1901, and the company manufactured an average of three passenger automobiles per week. The White cars were driven by steam engines, with a "flash" boiler invented by Rollin. The first steam cars made their appearance in 1902, winning perfect reliability runs between New York and Boston.
The demand for White "steamers" increased. Thomas dismissed the importance of the automobile, and in 1906, the sewing machine and automobile departments separated, with the automobiles establishing in an extensive new plant in Cleveland. Windsor was president; his brother Rollin was first vice-president, and his brother Walter was vice-president and sales manager.
In 1907, company engineers began experimenting with the gasoline engine, resulting in the conclusion that the gasoline engine offered the most significant advantages. The company produced the first gasoline-driven passenger car in 1909, and gradually, steam car manufacturing was discontinued.
Simultaneously, the company began to concentrate on producing motor trucks, with the first truck making its appearance in 1910.
Upon the death of Thomas White in 1914, Windsor and Walter and Walter continued, and Rollin severed his connection.  When World War I broke out, the French Government promptly ordered 600 White trucks, and many orders for the Allies followed. The United States Army adopted the two-ton White truck as standard, and the French Government awarded Croix de Guerre to the White-truck fleet for its service. There were 18,000 of these trucks in the United States and allied powers' armies, and in 1918, the United States Government took the entire production.
Toward the end of World War I, the company discontinued the construction of passenger cars and devoted its manufacturing facilities to trucks and buses. Following the war, White became the number one truck manufacturer.
The White brothers added to their father's philosophy on how to operate the company. They encouraged employee musicians to perform at lunchtime. Even the second and third shifts had their bands. Company sports teams, baseball, in particular, were used to build company pride. The company operated a small hospital and a night school, offering a variety of classes. Employees could pay utility bills and even their taxes through the company cashier. Their industrial service department helped employees fill out forms when needed.
The Whites valued and respected their workforce. All three brothers spent several hours per day in the plant, getting to know all employees' names. Lunch, on many occasions, found the Whites in the employee cafeteria, not the executive dining room.
Should an employee become sick and no longer able to work in the plant, Walter White transferred the employee to a healthier environment at his Circle W. Farm. It just seemed like common sense to achieve great results and limited turnover from contented workers.
In addition to being president of White Motor Company, Windsor became president of White Sewing Machine Company in 1921, serving until 1923. He was also president of Park Drop Forge Company, a director of the First National Bank.
After his resignation in 1927 as chairman of White Motor, he indulged in one of his favorite hobbies, big-game-hunting, by engaging in three safaris to Africa starting in 1928. Two years later, he headed the White-Fuller African Expedition for the Cleveland Museum of Natural History and spent six months in British East Africa with Arthur Fuller, chief preparator.
The expedition returned with 700 specimens, including many species of birds, and 300-feet of motion picture film with close-ups of lions, zebra, hippopotamuses, giraffes, and other animals.
Social memberships included Country, Kirtland, Mid-Day, Roadside, Tavern, and Union Clubs plus the Engineer Club of New York and the Metropolitan Club of Washington D.C. He was instrumental in developing the Chagrin Valley Hunt Club and rode the hounds until he was 76 years old.
Delia died of a cerebral hemorrhage at Lakeside Hospital on May 15, 1947. She had been ill for about a week. Windsor suffered a stroke in late February 1958 and died on April 9, 1958, while visiting his brother, Rollin, in Hobe Sound, Florida. Both he and Delia were buried in Lakeview Cemetery.