Samuel Williamson – Judge and Railroad Counsel
9717 Lake Shore Boulevard
graduatedwas Samuel Williamson was elected judge of the Court of Common Pleas in 1880. He resigned in September 1882 to become general counsel for the Nickel Plate Railroad, eventually heading the legal department for the New York Central Railroad from 1898 until his death.
Samuel Eladsit Williamson was born on April 19, 1844, the son of Samuel and Mary Williamson. He graduated from Western Reserve College in 1864 and went on to graduate from Harvard Law School in 1866. In February 1867, he became associated with his father in the practice of law.
Samuel was married twice. His first marriage was to Mary Peabody Marsh on June 4, 1878. She died three years later on May 1, 1881, and buried in Lakeview Cemetery. They had two children: Mary and Ethel. In 1884, Samuel remarried Harriet W. Brown, who was born on April 5, 1852. They had a son, Samuel B., born on April 15, 1887.
Samuel died February 21, 1903, and is buried in Lakeview Cemetery.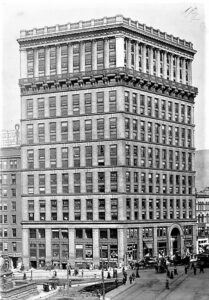 The Williamson Building stood on the corner of Euclid Avenue and Public Square on the site of the Samuel Williamson homestead. It was a four-story building built in 1899 and was later damaged by fire in 1895.
On April 1, 1890, the second Williamson Building was seventeen stories, the tallest building in Cleveland when completed, and served as the gateway to Euclid Avenue for over eighty years.
In 1944, Williamson acquired the adjacent Cuyahoga Building and joined with the Williamson Building on the interior. Both buildings were demolished in October 1982 for a new headquarters building for Sohio (BP America).
As had his father and grandfather, Williamson served as a director of the Merchants Bank of Ohio. He was a trustee of the Cleveland Society for Savings. He became a director and vice president of several corporations connected with the New York Central system of railroads, besides being a member of the Eastern Railroad Association's executive committee.
He served as a trustee of Adelbert College (Western Reserve University) after his graduation until his death. He was one of the University School founders and was president of its board of trustees from 1890 until 1909. He served as president of the First Presbyterian Church of Cleveland, was a trustee of Old Stone Church, and trustee of Lakeside Hospital.
Samuel Williamson died on February 21, 1903. Harriet died on May 2, 1933, and was buried alongside Samuel in Lake View Cemetery.