May Allison Osborne, Silent Film Star
Blonde and delicate-looking lady of American silent film, May Allison made her Broadway stage debut in the 1914 production of Apartment 12-K before settling in Hollywood, California, in the early days of motion pictures.
Allison's screen debut was as a young, innocent, and appealing character in the 1915 star-making Theda Bara movie, A Fool There Was.
Allison was cast that same year opposite actor Harold Lockwood in the romantic film David Harum. Audiences quickly became enamored with the onscreen duo. During World War I, the pair starred in about twenty-five highly successful features and became one of the first celebrated onscreen romantic duos.
In 1916, she signed a contract with Metro Pictures, a parent firm of Metro-Goldwyn-Mayer. The studio described her as a lovely blonde actress.
However, Allison and Lockwood's highly popular film romances ended when in 1918, Lockwood died at the age of 31 after contracting Spanish influenza, cause of the deadly epidemic that swept the world from 1918 through 1919.
In the early 1920s, she signed with First National Studios and continued to be a famous performer until she voluntarily retired in 1927 after starring in the film The Telephone Girl. Her career included roles in over fifty-seven films, including The Secretary of Frivolous Affairs, Youth for Sale, I Want My Mann, The Greater Glory, and Men of Steel.
May Allison was born June 14, 1890, in Rising Fawn, Georgia, the youngest of five children born to Dr. John and Nannie Allison.
Within a two-year period, May twice became a bride unknown to her family. On December 1, 1919, she was swept off her feet by the ardent wooing of Colonel William Stephenson, whom she met at a dinner on board Admiral Rodman's flagship of the Pacific fleet. They were secretly married in Santa Ann, California, agreeing to remain apart until her Metro Pictures contract expired.
Returning home, she soon realized her mistake. Colonel Stephenson reluctantly released her, and the marriage was annulled in February 1920. On November 25, 1920, Allison married writer and actor Robert Ellis. She said she had long loved him. However, they separated in a lover's quarrel on November 5, 1923, and Allison filed for divorce in December 1923, citing cruelty as the reason.
Both marriages were secret, and it all came out when an impostor under arrest in Santa Ana, California, said he was May Allison's husband. After that, May thought it best to let the world know about her real husbands.
Allison next married Photoplay magazine founder and editor James R. Quirk in 1926. He encouraged her to write feature stories for Photoplay, Cosmopolitan, and Liberty magazines. She retired in 1927 to nurse her ill husband until he died in 1932.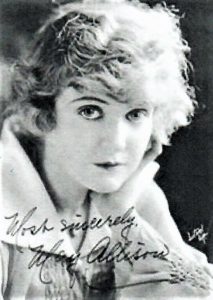 An actress friend introduced May to Carl Osborne, a Cleveland industrialist in New York City. Shortly after that, Carl divorced his first wife, Mary (Annat) Osborne, after being married for 21 years to marry May Allison in 1935. The couple moved to Cleveland, and the marriage lasted over forty years.
Carl Norton Osborne was born on April 13, 1885, in Wooster, Ohio, to Archibald and Mary Osborne. He graduated magna cum laude from Adelbert College of Western Reserve University. After graduation, he joined Garfield Saving Bank as a teller and assistant treasurer. After five years, he left to become a partner in the investment banking firm of Borton & Borton.
Osborne joined the M. A. Hanna company at the invitation of Howard Hanna. His task was to mold iron ore, coal, and shipping interests from the partner's holdings into a company that could operate and finance more efficiently.
Osborne retired as vice president of the company in 1956.
Both Carl and May were benefactors of the Cleveland Orchestra and the Cleveland Society for the Blind. In addition, for many years, May Allison Osborne was a board member of the Cleveland Play House.
The Osbornes were members of Kirtland Country Club and the University Club. They had a winter home in Tuckers Town, Bermuda, and were members of the Mid-Ocean, the Royal Bermuda Yacht, and the Coral Beach and Tennis clubs all in Bermuda.
Carl Osborn died on May 4, 1982, of congestive heart failure. May Osborne died March 27, 1989, of respiratory failure in her Bratenahl home. Both were buried at Gates Mills South Cemetery in Gates Mills, Ohio.