12015 Lake Shore Boulevard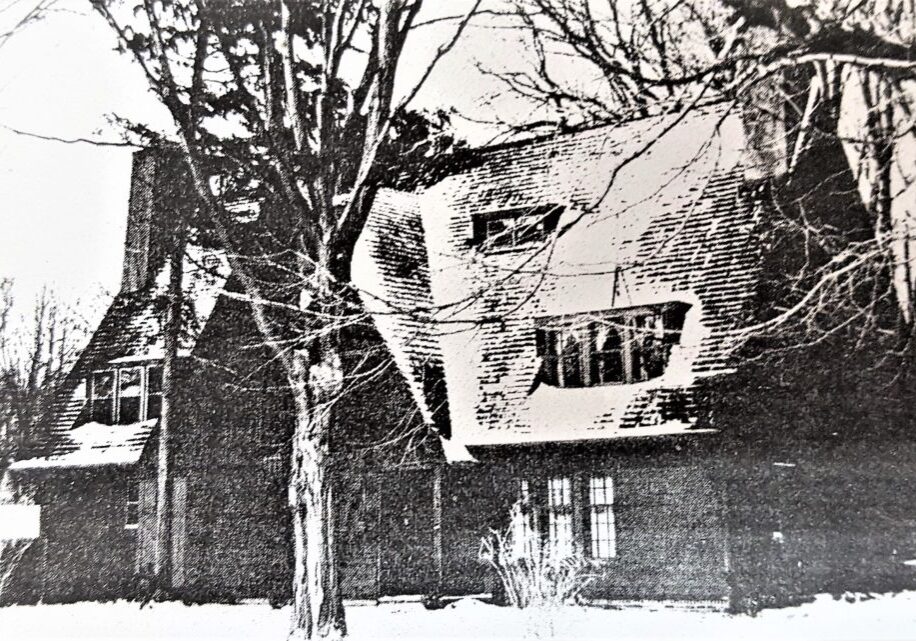 George and Catherine Carleton acquired this charming small house designed by Kathryn's aunt, Caroline Coit, on December 17, 1921. Kathryn Coit Carleton was the daughter of Charles H. Coit. Charles gave his daughter the property as a wedding gift when she married George in 1921. Both George and Catherine grew up in Bratenahl. George had lived at 13421 Lake Shore Boulevard.
The home was situated well back from Lake Shore Boulevard on a large, irregular lot that bordered Nine Mile Creek. The property was heavily wooded, and the lake was only visible in the winter. Shoreby was directly behind and shared the driveway. To the rear of the property was a playhouse.
The home was a lovely example of an English cottage, painted a maroon color that blended with the landscape.
The house had a small charming entry enhanced by dark Italian tile and the warmth of oak woodwork and moldings. The foyer was a step up from the entrance, and directly ahead was the dining room. To the right was a spacious living room with a fireplace flanked by bookcases.
Off the living room, toward the lake was a large screened porch that also opened off the dining room. To the left of the foyer were a kitchen, pantry and breakfast nook. Beyond the kitchen was a back stairway and mudroom plus a rear entrance that lead to a three-car garage and storage.
Three bedrooms and two bathrooms were on the second floor. The third floor had two bedrooms, one bathroom, and a storage room. The basement was unfinished except for a well-constructed wine cellar.
John and Florence Wind acquired the home from Kathryn Carleton on August 30, 1943.
Paul and Joan Duprey acquired the home on July 9, 1962.
Richard and Rosemary McKeon acquired the home on November 5, 1968. The McKeons converted the third-floor storage room into a family room.
John Domo acquired the home from November 18, 1988. The home was razed shortly thereafter to make room for the Newport Development.